Workforce Relief solutions for companies that care
A turnkey, tech-enabled solution to support your employees and other essential personnel during crisis.
What is Workforce Relief?
Workforce disaster relief programs provide a financial lifeline to employees, contractors and other essential personnel during times of crisis. When hardships strike, the people who power your organization can apply for cash grants that can be used to cover unexpected expenses, creating financial stability in uncertain times.
The journey of relief
UNEXPECTED EVENT
A disaster or hardship occurs.
PERSON IMPACTED
Work and life are unstable.
APPLY FOR RELIEF
Individual applies for financial relief.
APPLICATION REVIEW
E4E Relief grant specialist reviews.
DETERMINATION
Grant decision made based on program guidelines.
RELIEF DISBURSED
Funds distributed directly to applicant.
Workforce Relief in action
In June 2020, Cargill launched the company's Employee Disaster Relief Fund in partnership with E4E Relief to support employees around the world during times of catastrophic or personal disaster. Learn how Cargill used the fund to deliver vital financial relief in the wake of Hurricane Ida.
Create impact across your organization
Our research shows workforce disaster relief creates exponential impact across your organization, including boosts to productivity and engagement, individual well-being and loyalty.
Grant recipients who regained their financial stability
Recipients whose mental well-being improved after receiving a grant
Recipients who say their grant helped them maintain productivity at work
Recipients who feel an increased desire to continue employment at their company
The E4E Relief advantage
Our mobile-first Emergency Financial Relief solution is built on a powerful combination of human expertise and technological efficiency. Our state-of-the-art platform provides scalable, secure and reliable access for applicants, donors and clients. This enables our team of seasoned and committed relief advisors, grant specialists and relationship managers to meet the urgent needs of individuals and their families around the world.
Transparency
Distinct & separate fund accounting
Interactive client dashboards
Allocated investment earnings
Readiness
Expert program design consultation
Equitable third-party grant review & determination
Automated class verification options
Strict regulatory compliance
Payment redundancy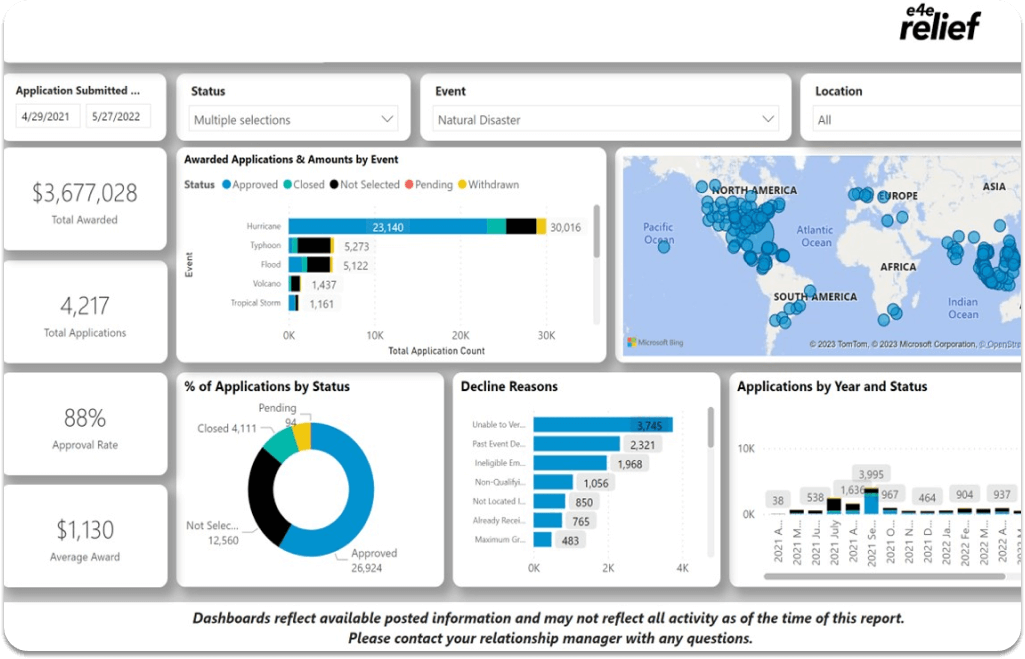 Applicant Experience
Protection of personal data
24/7 global applicant support
Interpretive services offered in 200 languages
Native language translations
Impact-Driven
Leading industry insights & benchmarking
Advanced impact research & reporting
Client Connection Groups
Educational webinars & focus groups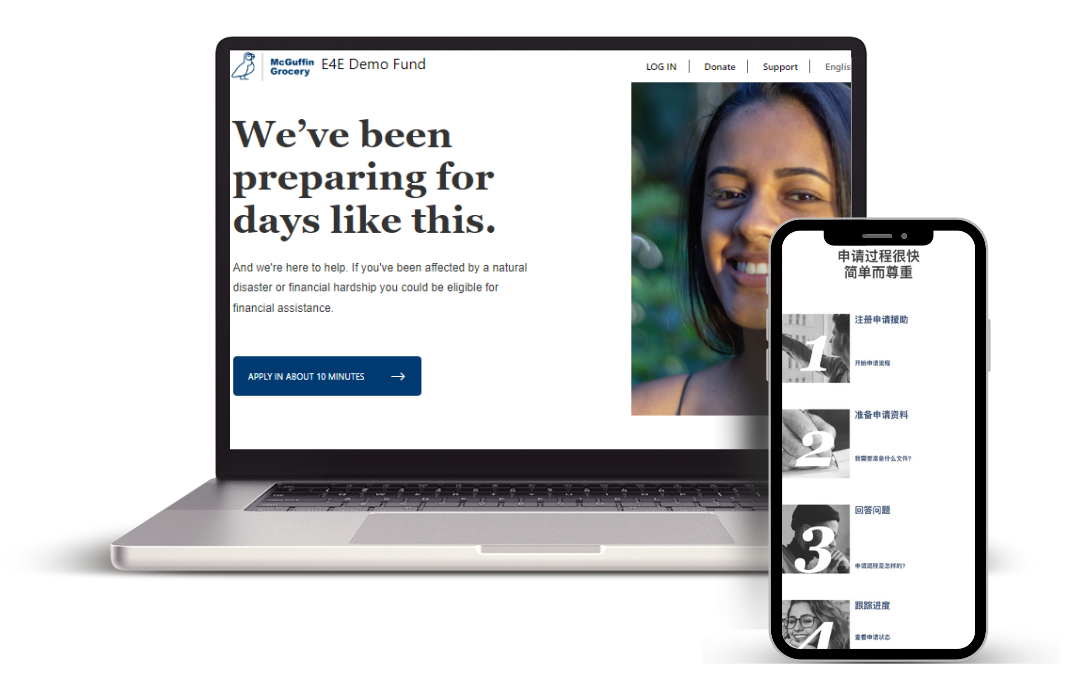 The impact of Workforce Relief
Emergency disaster relief funds change lives, offering a safety net on the hardest days and allowing individuals to focus on family, work and recovery.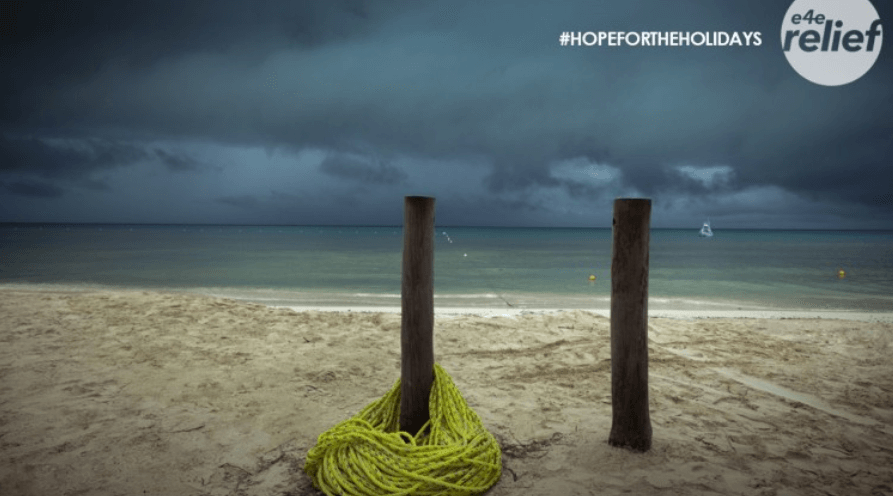 Finding relief in a time of tragedy and loss
"This program has been more than helpful; it has been the light in a dark tunnel that I felt my life was spiraling down into,"
Client testimonials
"BlueCross NC partnered with E4E Relief 10 years ago to launch our employee relief program, Blue Assist. We are passionate about supporting our employees and intent on providing financial support when they may face crisis. We are proud of our continued success in this endeavor and look forward to continuing to show up for our colleagues when they need it most."
"We are one team at H&M, and we believe in our people. Standing behind our colleagues and showing our support in all they do for us are among some of the ways H&M cares. We're incredibly proud to partner with E4E Relief to launch the H&M One Team Fund, a helping hand for our colleagues who face difficult times and an opportunity for them to support each other along the way."
"I must say that you and your team are amazing. It's exactly why we picked you and why I am so fortunate to have a partner that is this caring."
How to set up Workforce Relief
Design
Our advisors help you define who and what to cover.
Fund
Determine how to seed the program and commit to E4E Relief.
Build
Our team builds your relief platform based on your parameters.
Launch
Encourage your workforce to donate and apply.
Our step-by-step disaster readiness guide
A billion-dollar disaster now occurs every 18 days in the U.S. alone (NOAA). Is your business ready for the next one?
In our free Disaster Readiness Guide, we walk you through the steps to ensure your business is prepared for the worst. Download the guide to get started today!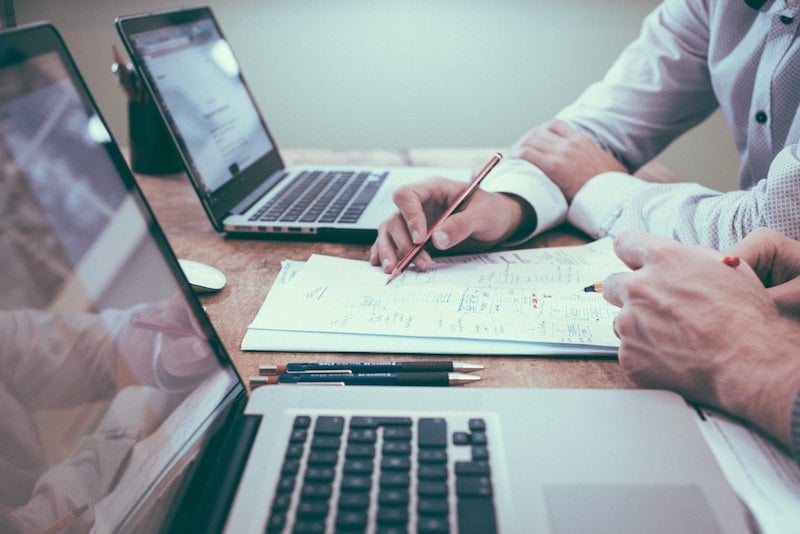 The latest news from E4E Relief
Let's discuss your needs
Ready to find out how Workforce Relief could support your workforce? Let our team walk you through a brief demo of our award-winning solution.